Is Conformity a "Woman Thing"?
Written by Bukola Adekanye
I come from Nigeria, a country replete with rich party culture. Birthdays, weddings, child christening, and even funerals are celebrated carnival-style. Any reason is good enough to gather friends, family, neighbours, and strangers to celebrate with us. It's near impossible for a weekend to go by without having someone in your circle celebrate a party, and as the saying goes " There's no party like a Lagos[1] party". A typical Nigerian party is lively, animated with music played by a live band, dancing, a Master of Ceremony who has mastered (no pun intended) the act of telling rib-cracking jokes. The party of course is incomplete without money-spraying, where the host is showered with real money by the party guests and of course the world-famous 'Nigerian party Jollof rice'.
This type of party has been nick-named 'owambe' which loosely translated means "to belong", The owambe culture is one of the traditions that has been passed down through generations, over many centuries, although the execution and scale have evolved. It is an industry in its own right.
One of the trademarks of a contemporary owambe is the 'aso-ebi', literally translated 'family cloth', and also known as a uniform. The aso-ebi is the official dress code and sets the theme for the party. It is usually a combination of fabrics selected by a connoisseur with trained eyes for colours, textures, and very creative imagination.
In my opinion, Africans and Nigerians are the most fashionable people on earth. You don't have to take my word for it. A walk through the streets of any cosmopolitan city will convince you. Better still, make attending a Nigerian party a bucket-list item, and you will soon find out for yourself.
While the aso-ebi is expected to be donned by men and women, the men can get away with not conforming to the dress code. Not the women, This is more so in a wedding setting where the 'aso-ebi ladies' play a significant role and get almost as much attention as the couple. Hence the pressure to step up to the plate and earn their place as the cynosure of all eyes at the occasion.
Being an aso-ebi lady often translates to:
Turing the designated fabrics for the event into custom sewn haute couture that celebrities in any part of the world will aspire to have in their wardrobe
Crafting a 'gele' (head-tie) that compete with some of the world architectural marvels
A face beat that gives contenders for the 'Miss World' title a run for their money
And of course, jewellery, sandals, purses, and other accessories that are a match for the million-dollar look.
Voila, a fashion icon with the panache of a magazine model.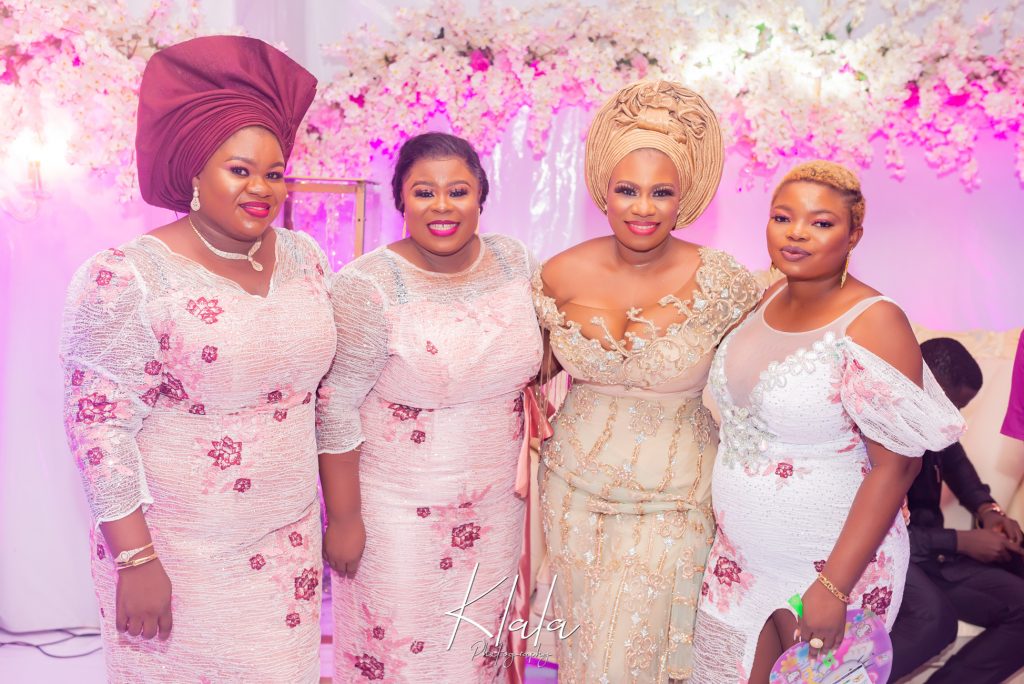 I love owambes for the food, the music, the entertainment, ambience, glitz and glamour and of course, it is a veritable way of unwinding and having fun after a long week in a fast-paced city like Lagos. I especially look forward to the reunion with relatives I haven't seen in a long time- especially those living abroad who travel home to attend the party. It is undoubtedly a core component of our culture that holds a strong appeal and is fast gaining popularity across the world.
While the underlying principle of the owambe culture is to create uniformity and a sense of belonging, I can't help noticing how it could inadvertently drive conformity for women who either can't afford the lifestyle or those for whom it is not a preference as they would likely stick out like a sore thumb at such gatherings.
This narrative creates a backdrop and a fine allegory for discussing 'conformity' and how society makes women the most susceptible to it.
Community and a sense of belonging are not only good, they are basic human needs. The irony however is that community often comes with an unspoken code of conformity, and while the original intent is to give a sense of belonging, it often creates exclusion to people who don't adhere to the strict, albeit unspoken ethos. Using the aso-ebi analogy.
In every society, there are certain stereotypes and expectations for women to conform to. These benchmarks drive us to put up our best appearances and performance every time and in every season. It is that subconscious need to earn society's approval, even when such standards are too expensive and cost our sense of individuality. We are expected to have a picture-perfect life all the time- be the perfect colleague, wife, mother, neighbour, boss, alongside a plethora of other roles that we play. The thing about conformity is that it stifles originality.
While it might appear that this has evolved over the years and women are more accomplished, empowered, and self-defined, it would appear that sometimes, at the core of all the achievement, is the need to belong, be recognized, and reckoned with.
Interestingly, this does not happen only to African society, which is considered to be mostly patriarchal, but in every society of the world.
Based on societal constructs, I don't foresee that this will change anytime soon. On our part, we have to become comfortable with being that person who dares to stand out from the crowd even when it means cutting across the grains. It's a tough fight, no doubt, so while at it, we should remember to bring along with us the essence of our intricate design- empathy, tenderness, and love.
---
[1] Lagos is the economic capital of Nigeria and 2nd most populous city in Africa. Lagos is originally home to the Yoruba tribe and a metropolitan city that hosts people from all over the country. The Yoruba are famed for being very sociable and party-loving.